Customer's Photo Reviews
See more reviews below
Love it or send it back in 30 days. Guaranteed!
We are so confident that you will love your Hot Yoga Dome, we offer a 30 day money back guarantee.
If there is any reason you don't love your Hot Yoga Dome, send it back to us within 30 days, and receive your money back.
Buy Now
COMPARE DOMES
Which Size is Right for You?
Scroll to the right to see more >
CAPACITY
HOW HOT DOES IT GET?
1 Heater & Humidifier***
2 Heaters & Humidifier***
ASSEMBLY
Inflates in
Heats in
Pack-away Time
SIZE
Interior
Exterior
Height
Closed
WEIGHT
Without Window
With Window
Instruction Video
We offer a12 month warranty on our Domes and all of the electrical equipment supplied with it.
We are confident you won't need it. Our Domes are built to last.
Frequently Asked questions
TESTIMONIALS
What Customers Are Saying About The Hot Yoga Dome
"I am so forever thankful for my Hot Yoga Dome. Had it for a couple of months now, the quality and the experience of it all is fantastic! THANK YOU!"
Karen Harelson
"Impressed is an understatement! This hot yoga dome blew my expectations out of the water! I've been practicing and teaching hot yoga for a decade and am very particular about the heat and humidity of classes. This dome delivered!"
I love my hot yoga dome! Easy set up, insulates the heat and humidity. I've been missing the yoga since the beginning of this pandemic. It's like an oasis inside my home.
Eva Santiago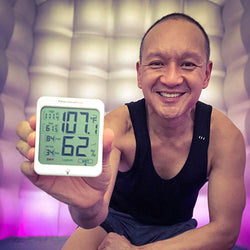 "The Hot Yoga Dome is a game changer for anyone who practices hot yoga at home! Hot, hot yoga with no mask required. AMAZING"
Antonio Viudez Rivera
Customer Reviews